Inkaterra Reserva Amazonica
Today, when it suits you, you'll be met by your guide at the local airport to board our flight to Puerto Maldonado, the gateway to Peru's Southern Amazon and the Tambopata National Reserve.
From there, you'll start your adventure to the amazing rainforest as we take a 45-minute boat ride along the Madre de Dios River to arrive at Inkaterra Reserva Amazonica lodge.
Once you've arrived, you'll have a short briefing and then lunch, that will be served in the dining room. This afternoon, after gathering with your assigned guide, you can choose together from the 14 different excursions available at the lodge.
In the afternoon, we recommend a guided walk through the trail system to discover the Amazon Basin. This trail offers an excellent introduction to the forest environment, winding past impressive trees such as the Shihuahuaco, and the strangely beautiful strangler fig, offering excellent opportunities for bird watching and observing exotic insects.
At night, we recommend the Twilight River excursion that will show you species specially adapted to the amazon nightlife. After dinner you can either return to your cabana to relax, or staying.
Accommodation
Inkaterra Reserva Amazonica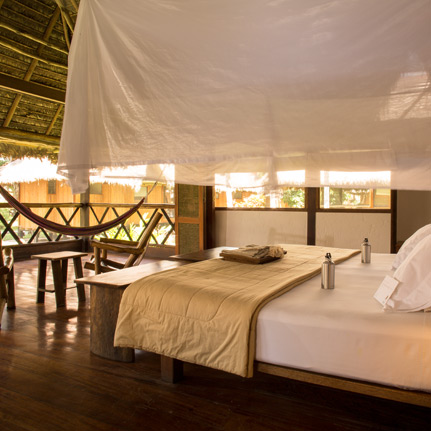 Meals
Lunch and Dinner